Is trying to DIY your brand design frustrating the hell out of you? Let's fix that...
Building an online business is hard. You've got so many things going on in your head, and your to-do list is overwhelmingly long.
You wish you could have a cohesive, stylish brand identity, but every time you open up Canva you end up closing the app in frustration. Your DIY attempts feel messy, and even when they're not bad, you still don't know if they're up to standard. You know design just isn't your thing, and you're tired of feeling trapped by your own creative limitations.
What if you could be done with stumbling over fonts and feeling confused about your color palette? If all you had to do was open up a template, pop in your content, and be done with it?
Brand Kits are a comprehensive set of completely customisable templates and assets to help you get your brand identity done, like, yesterday.
15+ fully customisable logo designs in Adobe Illustrator, Adobe Photoshop and Canva compatible files. Simply replace the Nina name with your own and save.

A signature color palette, plus 5 alternate, pre-made color palettes to help to achieve a different vibe.

A selection of free, Google Fonts and branded guidelines for how to use them across all your collateral + website.

A set of Instagram templates, including 12 designs + 48 color combinations for your feed and stories in Adobe Photoshop and Canva compatible files.
A set of Pinterest templates, including 9 designs + 36 color combinations to showcase your work + drive traffic to your site in Adobe Photoshop and Canva compatible files.

A Brand Manual with usage guidelines and examples on how to customise your kit.

Access to a signature Unsplash library filled with 50+ free stock images for you to use with your kit, plus additional access to all 5 of my curated Unsplash Collections.

Access to simple video tutorials that will teach you how to customize and implement your new brand kit.
Love classic styling and warm tones? You'll love Chloe. She's modern, elegant, and ready to help you cultivate an inviting experience for your clients and customers.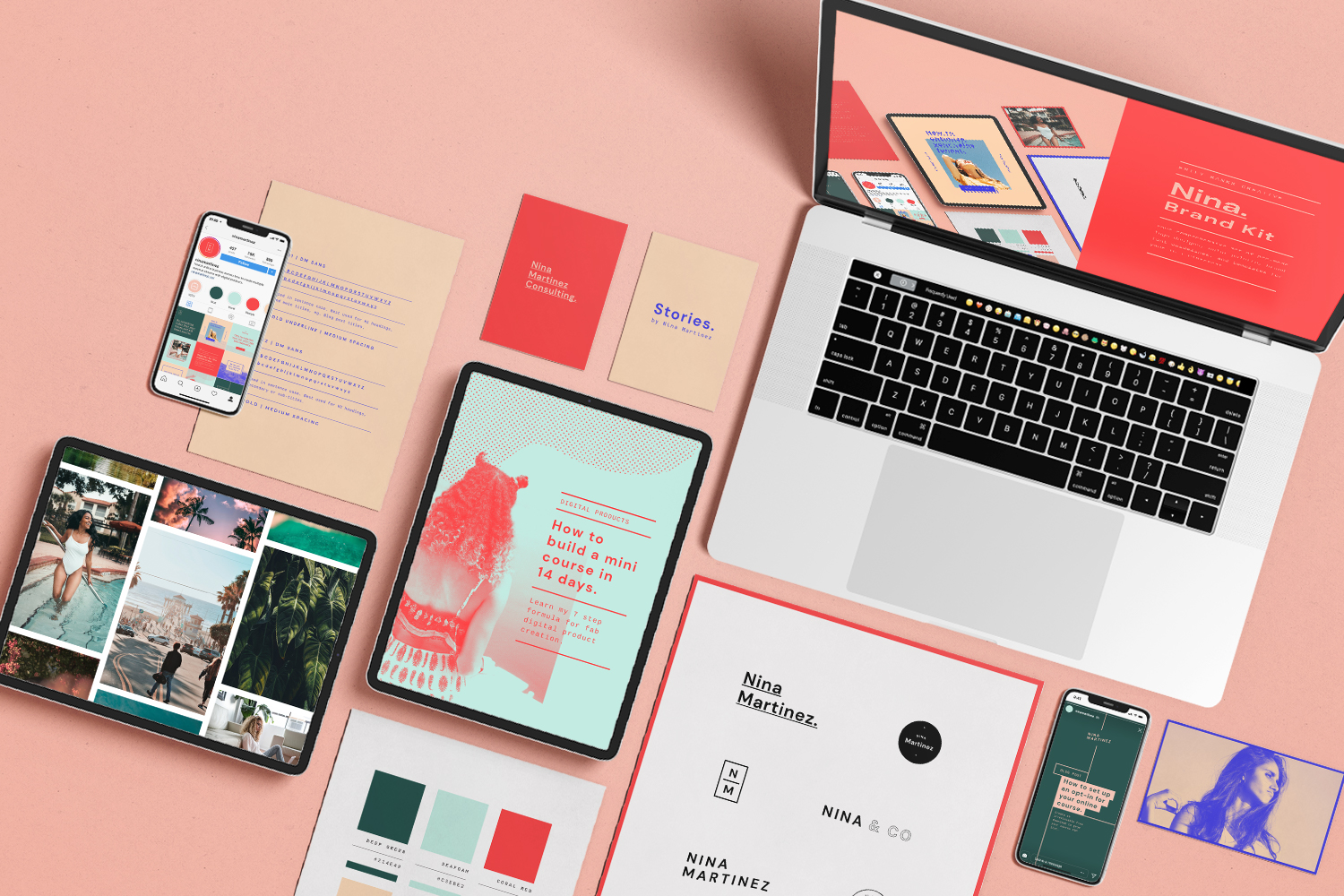 Love bright colors and chill vibes? Nina is perfect for you. She's bold, contemporary, and will help you build an online presence that stands out from the crowd.
" Emily's work is intuitive and creative. I now have the foundation for a brand identity that I can build on as my business grows. I'm so grateful to have found her! "
- MEAGHAN DYNON, LITTLE MAGIC YOGA
Brand Kits will be launching in Fall of 2019.
Drop your name + email below to be the first to know when they're available!