Together we'll create a stylish, unique identity that will uplevel your business experience - let's build your Signature Brand.
You're passionate about your clients, and you want to give them the experience with your business that they deserve.
Your results speak for themselves. But your visuals are just… there. You've outgrown your own DIY attempts, and your brand's identity doesn't have a lot to say about what it feels like to work with you.
You want to spend your time on the work that fuels you - not the work that frustrates you. And branding? That's in the frustrating bucket.
You're over messing around in programs you don't understand, trying to figure out if the graphic you've created is even any good.
You're done with spending all your energy on creating visuals and business materials. You know your true passion lies with the transformation you create for your clients or customers.
You're ready for the way your business looks to match the vision you have in your head.
For every interaction with your brand to be in alignment with the impact and growth you create for people.
Let's create your
Signature Brand
Together we'll walk through my signature branding process to craft your unique brand strategy, design an exclusive set of branded assets, and work all of them into your Brand Bible: a comprehensive set of guidelines that ensure you (or anyone on your team) will know exactly how to implement your new brand identity.

Signature Branding with me operates on a 5-7 week timeline. It includes...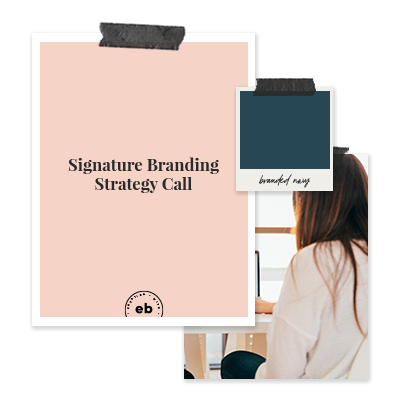 Brand Strategy Coaching Call
To kick things off we'll meet for 90 minutes to discuss all things strategy, where I'll get a deep understanding of your vision and audience. Then, we'll make a plan for how we can best use your values, voice and the visuals we'll create together to build the experience your clients deserve.
Signature Mood Board & Color Palette
You'll put together a Pinterest board containing all your visual inspiration, and I'll refine it down into a signature mood board and color palette. We'll use this as an opportunity to explore and establish a visual direction for your brand.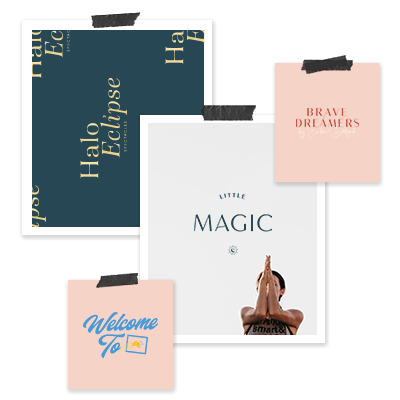 Primary Logo & Two Alternate Logos
With our visual direction firmly in mind, we'll create a primary logo for your brand, supported by up to x2 alternate variations that tie in with the primary design. This will give you the flexibility to use your logo across almost any possible scenario.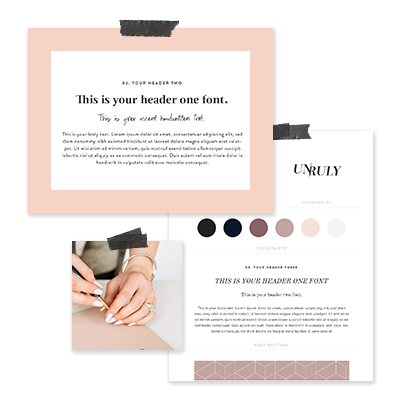 Expertly Paired Brand Font System
We'll select a system of fonts that tie in with your logo and visual direction to cover all kinds of heading + copy for your branded collateral and website.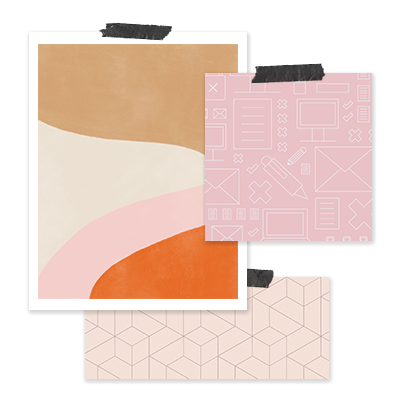 We'll custom create a set of (up to x3) illustrated or textured patterns that you can use throughout your collateral or website. They'll set you apart from DIY brands and give you an awesome alternative to repetitive stock photos.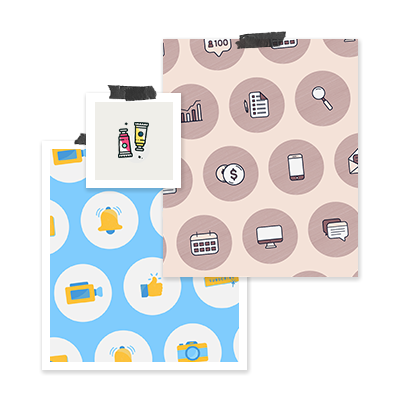 We'll design a set of (up to x6) icons specific to the kinds of content and concepts you commonly discuss. They'll help you communicate ideas on a visual level and add to that feeling of exclusivity.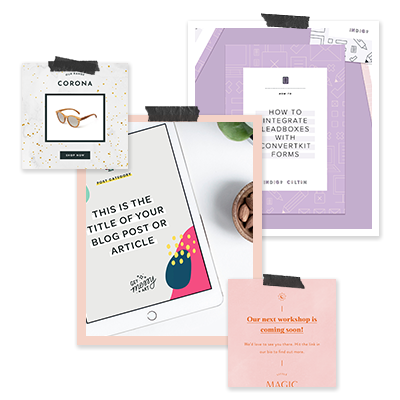 Two Branded Collateral Items
Your collateral pieces are often the main touchpoints for your customers or clients, so they're an excellent chance to bring all of your new, branded assets together. You may choose from items such as Instagram templates, Pinterest / blog templates, pdf document templates, slide deck templates, podcast cover art, business cards, thank you cards, gift certificates, and more.

Note: Additional collateral can be quoted on request.
All of this foundational strategy and custom asset design come together to form your Brand Bible.
Your Brand Bible is a digital document containing a comprehensive set of guidelines and usage rules. You'll never have to worry that you're using your assets in the wrong way, and it can also be handed to current or new team members to ensure that your new brand experience is cohesive and consistent.
Signature Branding Project Add Ons
Squarespce Web Design
We'll implement your newly created brand identity into a fully custom website using Squarespace as a platform where I am an approved Squarespace Circle Designer.

We'll have a 60 minute site planning call, and from there we'll create a Home Page, plus up to x4 additional pages of your choosing, such as a blog, about / contact page, sales pages, shops, landing pages, and more.
Monthly Design Updates
If you'd like to take a step back and leave the ongoing creation and updating of your collateral and / or website to me, we can arrange that at the completion of your branding project.

We'll meet once your project is done to assess your requirements + schedule and I'll take care of your ongoing design work. You'll provide me with content, and I'll implement it into your templates + website.
Here are some of my past signature branding projects...

Click through to see each project in detail, or click here to see the rest of my current portfolio.

Investment starts at: $2500
Now booking for start dates in mid 2019.
Want to know more? Download your welcome packet! You'll get all the details on timelines, revisions, and payment, plus the opportunity to book a free call with me to discuss your specific needs.
This is perfect for you if…
You're an online business owner selling services, trainings or digital products.

You've been DIY-ing your brand since the beginning, and you no longer have time, or want to free up some mental energy by handing it off.

Your business is growing and you're looking at bringing a team on board to outsource some of the work.
This is NOT for you if…
You're testing out a new idea or business and need only some basic brand elements to get you started.

You'd rather do some or all of the work yourself to save on the investment.

You're not intending on ever bringing in outside help in the form of contractors or team members, and would rather keep everything in your own mind.
The Signature Branding process...
It's so important to me that we can align your brand with who you really are, and strategically implement your vision to strengthen and cultivate the experience for your clients and customers. On top of that, it's important to me that you always feel comfortable and confident throughout the process. That's I've developed my three phase Signature Branding process...
1. Discovery
Here's where we lay it all out on the table. Through our strategy call, research and mood board phase, I'll get to know you, your vision, and we'll work together to establish the direction for your brand.


2. Design
With your brand vision and strategy + visual direction in mind, we'll get going on a collaborative design journey to create a unique, extensive brand identity that you feel confident to share with your audience.


3. Curate
With your complete strategy and comprehensive set of branded assets, we'll curate all of it into your Brand Bible, so you and anyone else who comes into contact with your business can use them with confidence.


"

I would recommend working with Emily 110% - she surpassed my wildest expectations for having an expert come in and redesign my entire brand.

"

— Indigo Colton, www.indigocolton.com

"

When I started working with Emily on this brand design, I just knew she were the perfect person for the job... but I never imagined it would look this cool! Emily has super design skills and she's so easy to work with.

"

— Josh Fitzpatrick, Welcome To

"

Emily's process is so easy and straightforward. She really dives deep into what you want and it's like she went inside my brain and made sense of the chaos.

"

— Lauren Brown, Left Coast Made

"

Emily is prompt, responsive, professional and best of all, she listens - I'm so grateful I found her. I love my new brand identity and now have a foundation that I can build on.

"

— Meaghan Dynon, Little Magic
Hey, I'm Emily. I'm a brand + graphic designer from Australia. In 2015 I graduated from my Bachelor's Degree in Visual Communication and Design, with a major in Graphic Design. Since then I've had the privilege of working on signature branding projects with online business owners from all over the world, from coaches to course creators, virtual assistants and OBMs, all the way to influencers and youtubers.
I created the Brand Bible framework and my Signature Branding process to provide you not only with a modern, stylish identity, but also with a brand that has the flexibility to grow and change as you do. More than anything, I love helping people like you align your branding with who you really are, and with the experience you're building for the people you work with.
Frequently Asked Questions...
+ Do I have to know exactly what I want before we start working together?
Not at all! We'll workshop your brand strategy during your included call, and we can work out the details of your visual requirements (eg, design style, collateral requirements) as we go.
My only prerequisites are that you have decided on or have a couple of options that we can workshop for your business name for logo purposes, and have checked into the legalities of using any / all of those name options regarding copyright and registered trademarks.
+ How long will the entire design process take?
It will take approximately between 5 and 7 weeks from your start date to complete your brand. If you have chosen to include Squarespace web design, the process can be expected to take 7-10 weeks in total. The time frame may vary depending on how quickly you respond to things like feedback requests and design approvals.
+ This is expensive - will you do me a deal?
Signature Branding is designed for businesses looking to uplevel their branding and create a consistent, exclusive experience for their audience. My packages are priced according to the time and value of the work that goes into completing this kind of custom work. If you cannot afford the investment right now, you might want to check out my Starter Branding package.
+ What if I don't need all those inclusions?
Signature Branding is designed to cover all of the necessary elements of an exclusive, unique brand. If you'd like to start out with something simpler, you might want to check out my Starter Branding package. If you'd like to meet somewhere in the middle, use the link at the end of the welcome packet to book and call and we can have a chat about meeting your specific needs.
Investment starts at: $2500
Now booking for start dates in mid 2019.
I only work with one new signature branding client per month, and I am often booked out in advance, so grab your welcome packet and book your call using the link at the end asap to ensure you can lock in your preferred start date.